Gardens & Green Spaces
The Parkland in bloom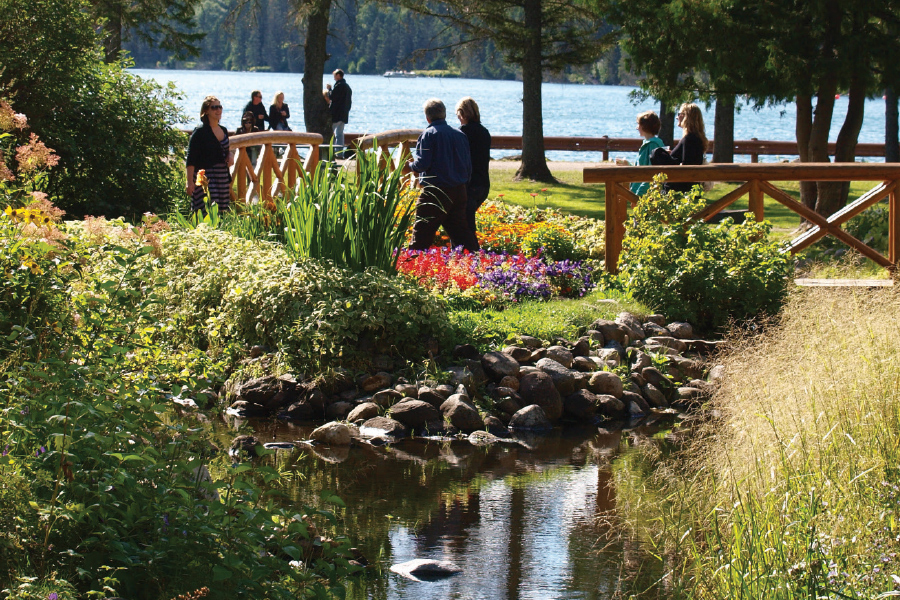 With all this natural beauty, you would think that people in the Parkland would find little need to cultivate their own. Greenery is a point of community pride, and the "Four-Blooms-or-Better" club grows bigger all the time. Sandy Lake, Rossburn, Russell, and Grandview have all earned stellar marks in the Communities in Bloom competition.
Our tour starts in Wasagaming, where the first-rate gardens reflect the park planners' vision of Riding Mountain as a Victorian resort in the wilderness. Highlights include the floral gardens at the Visitor Centre, the elm-lined sidewalks of the central park, and the Wishing Well Garden with its shady perennial beds.
Travel east out of the park on PTH19 to McCreary, and then north on PTH5 to Ste. Rose du Lac where a replica of the Notre Dame de Lourdes grotto in France can be found, including park and gardens.
Travel west on PTH5 to Roblin where a working sundial created from a massive glacial-age boulder is the centerpiece of a beautiful community garden at the intersection of PTH5 and 83.
The town of Russell (a 4?Bloom community, located south along PTH83) is home to Peace Park, which sits on the Trans-Canada Trail route, and has an inter-national flavour with flags of the world, a wooden bridge and floral gardens.
Take PTH45 east to Rossburn (a 4-Bloom community). A life-sized bronze statue of Duke, an 812-pound black bear killed by a poacher in 1992­—which at one time held the record for the largest black bear every recorded—can be found at Rossburn Memory Garden. This  beautiful park is complete with a waterfall.
Next travel east on PTH45 to Sandy Lake (a 5-Bloom Community), with its floral gardens tucked into every possible spot on the downtown streets, and baskets of flowers on buildings and lampposts.